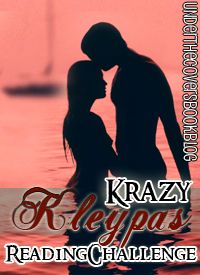 Update on the
Krazy Kleypas Reading Challenge 2012
. This was the only big challenge I signed up for this year and I think I did really well. It does help that Lisa Kleypas has a large backlist and I love her writing. Earlier in the year I signed up with a goal of 4-8 books but soon changed it to the next level up with a goal of 8-12 books. Let's see how I did.
Original Goal
Category Two
Komfy with Kleypas
4-8 Books
NEW Goal
Category Three
Kaptured by Kleypas
8-12 Books

List of books I plan to read:
Seduce Me At Sunrise (The Hathaways #2)
Tempt Me At Twilight (The Hathaways #3)
Married By Morning (The Hathaways #4)
Love In The Afternoon (The Hathaways #5)
Sugar Daddy (Travises #1)
Blue-Eyed Devil (Travises #2)
Smooth Talking Stranger (Travises #3)

New books added to the list:
Lady Sophia's Lover (Bow Street Runners #2)
Worth Any Price (Bow Street Runners #3)
Secrets of a Summer Night (Wallflowers #1)
It Happened One Autumn (Wallflowers #2)
Devil In Winter (Wallflowers #3)
Scandal In Spring (Wallflowers #4)
Love, Come To Me
That comes out to 10 books. While I didn't read all of the books I had planned, I did reach the challenge goal. Of course, I have only reviewed a small handful of these. Bad, blogger! Hopefully I can review them all next year because seriously, I loved a lot of them. Writing this post has given me an urge to read another Kleypas book so I may just try to squeeze in one more before the year ends.
Thanks to
UTC
for hosting such a fun challenge. If you haven't read a Lisa Kleypas book yet, you must! I love The Wallflowers and Hathaways series. Historical romance at its best!